Yes, it is a bad habit.  I know that.  Maybe as bad as my addiction to dark chocolate – though I see that as therapy that keeps me from killing annoying authors.
The computer caught that damn keylogger again and 4 days later I finally am back up and running.  So there are a lot of books to get through as I try to once again forget that day 15 years ago when our lives changed forever.
 Lest we forget
*********************************************************************
Let's start with a new author that impressed me – Chelsea Field  – with her first two books.
Here's the setup in Eat Pray Die – Isobel (Izzy) Avery is an Aussie hiding from a loan shark her scumbag ex-husband owes money and expects her to pay up.  So she takes a dangerous job.  One person in hundreds of thousands can taste poison and poison has become the weapon of choice for assassins.  So the rich hire tasters – like kings did in the Middle Ages where the condemned often became the King's taster.  The difference is the odds of survival for these rare people are much higher thanks to their weird genetic anomaly, the same one that lets them taste and identify poisons.  Izzy just finished training and has her first case – or so she thinks, but he's really her final test, until a client dies and he has to reveal himself as part of the investigative branch   So as he recovers from the poison he deliberately introduced into her food at breakfast, Izzy finds herself caught up in an investigation and trying to avoid the legbreaker, Mr Black, sent the by the Aussie loan shark and dealing with her easy going male apartment mate and the horny older woman across the hall.  Her 'client' turned trainer and Taster investigator, too handsome for his own good, Connor, all get introduced while she tags along on the poison investigation of one of the Society's client's.
Izzy turns out to have a knack for trouble and her attraction to Connor is sort of like cuddling up to a glacier.  But she also i good at unraveling puzzles, like murders – in her own stumbling fashion.  AT over 300 pages, it stayed a fast paced, amusing read with likable and believable characters.
Book 2 – Hunger Pains – has Izzy on her first real assignment as a taster for a blogger about to blow open a huge tech story – making him a target and keeping him away from heroin – the addiction he gave up 18 months ago, are as much a part of her job as tasting his food for poison and just laying around getting bored – and a tiny big plump.  He was as also agoraphobic and addicted to spicy cheese doodle from Mexico Izzy often went to buy at a local bodega.  Then he sends her home to sleep and he tests his new freedom and walks to the bodega himself – and she finds him the next day, dead from an overdose.  Not her fault, yet she's treated like a suspect because she didn't stop it.  But Izzy is convinced nothing is what it seems and she once again finds herself working with Connor.
The mystery here is more complex with more pieces on the board than in Eat Pray Die and a bit better done.  both are done with a light touch, but absent the OTT screwball situations and real mysteries driving the plot with the character stories wrapping around it.
Eat Prey Die gets a solid B (4*) and Hunger Pains gets a B+ (4.2*).  Highly suggested reads for fans of light, but not cozy, humorous mysteries.  Good characters and Izzy is fun.
*******************************************************
The Witch PI books by Adele Abbott, an English author using English setting range from very good to a jumbled, annoying mess.
Witch is When the Penny Dropped was the setup for Jill Gooder, adopted as an infant, she knew her mom was alive.  With her adopted dad, a PI, as her mentor, she learned the business and looked for her birth mother only to be told to never contact her again.  Her adopted parents now dead, she's running a shoestring PI agency in her dad's old office with his knitting crazed secretary – who works for free just to get out of the house – and her older sister, Kathy, (a bit bossy) and mellow BIL plus niece and nephew round out the core cast.
Jill gets a message her dying mother needs to see her, but after two rejections, she's unwilling to go till sis insists it's the right thing to do and will bring her closure.  At the hospital, her mother wakes just long enough to yell, "You're a witch" and dies.  Her aunt tries to get her to come to the funeral, but she arrives late and refuses all overtures from family and leaves.  Aunt Lucy comes to town and meets Jill for tea – and it turns out, Jill is a witch, one her mother hid among humans for years to protect her, but now she must fast-track her learning because someone is out to get her.
It all seems like such foolishness till she tries a spell from the book and finds she and her cat can talk.
Not the best in the series, a bit confusing in that it felt like a few key elements were left out, but over all, a C+ (3.3*) effort.
Witch is When life Got Complicated picks up with Jill training with Grandma – not a warm and fuzzy one either and cousins Amber and Pearl, Lucy's grown twin daughters, are annoying distractions. and spends way too much time with Amber and Pearl and frankly, the signs of the plots holes big enough to drive a truck through appear.  We get and evil witch, and icky guy friend, and cousins more irritating than my own – and trust me, that takes a LOT.
With each book, you get a small mystery Nancy Drew could solve between English Lit and Trig classes.  The humor gets strained and so does the oddly rapid pace of Jill's powers.  About book 8 I got the, "Kill me now and let this be ober with!" speed read mood.  Subsequent books did not encourage me to slow down.  It wraps with a none to shocking reveal about who is the 'Big Bad' and ends with the evil witch assuring her she has yet to meet her real enemy, The Phoenix.
That is it, the whole 12 books that get increasing annoying with talking cats doing semaphore and naked ghosts and such.  What had a decent start became a choppy mess of piecemeal life that frankly, you just stop caring about it all.  Mrs V, the ever knitting secretary is sane.  The rest are suspect.
The books ranged from D+ (2.4*) to B- (3.6*)  All are short – and trust me, that's a good thing.  Price is too high for what you get.  If you want to read them, borrow them from a friend.  DO NOT WASTE YOUR MONEY.
***********************************************
Unraveled is the 15th outing for Gin Blanco, the Elemental Assassin and unwilling nominal head of Ashland's underworld, she, her sister police detective sister Bria, adopted brother Finn (Bria's boyfriend), and her lover, Owen Grayson.  Finn's conniving mother left him one thing, the deed to a poor man's western theme park in Georgia, so off they go, much to Gin's disgust.
But once there, it gets pretty obvious things aren't what they seem and it's a good thing Gin came prepared – she packed all her knives.  The Christmas spirit is lacking when people start trying ti kill Gin.  Now, after being the most feared assassin in Ashland for years and now nominal head of the underworld – while she rather just run the diner, Finn is hellbent on this and she won't disappoint him after what happened with his mom.  And more importantly, Gim hopes to learn a bit more about her mother's involvement with The Circle, the real power in Ashland.  She's not disappointed as a lot comes out here, and not all of it is good.
Estep keeps this series fresh and brings what should be a tired group of people into new and interesting stories.  I like The Circle concept and we'll see how she handles it.  The book ends with the usual showdown, with Gim once again almost dying.  (She does that a lot)  Overall it was a good read and good addition to one of the more reliable series out there, and less uneven than most – though the story lines need a new ending, not yet another fight from which Gin barely escapes alive.
I give Unraveled a solid B- to B (3.8*) losing just a little ground for her constant use of the fimal 'big fight' scene in every-damn-book.
************************************************
The Sight is book 2 in the Devil's Isle post-apocalyptic world where supernatural being broke through The Veil (bk 1) and the main battleground was New Orleans.  Anyone showing any sign of magical power is banished to live in 'Devil's Isle' a community in partial ruins.  Full humans fear magic, all magic, and it can, if the human isn't trained, turn them into monsters.  Yet it is magic that protects them from what's on the other side, many of whom are not interested in anything but war.  Not all sups are evil any more than all humans are good and Claire Connelley is just slowly learning the ropes.  She's a 'sensitive' some with signs of magic.  Enough magic that a fallen angel is helping train her so it won't drive her mad.
After the war, the city, or what's left of it, is closely monitored by magic detectors that go off with the slightest evidence of magic use or the presence of a sup.  Claire teams up with Liam Quinn whose mother still lives in what is now Devil's Isle as that where the family home is.  He knows about Clair's 'gift' because she closed the veil through which the Fae and other magical creatures tried to again attack.  Try as she does to just run her old family merchantile store, she keeps getting drawn into problems, this time with an 'evangelical' type that wants all sensitives and sups killed to cleanse the world.  As an apprentice bounty hunter with Liam, they discover just a little too much and become targets of the believers.
The Devil's Isle books are more older young adult than true adult UF and fast easy, rather predictable reads, especially if you've read her Chicagoland Vampire series – which is far more complex and original.  The Sight has a predictable end and frankly, while good, it never passed into 'very god' or 'can't put down' territory.  It gets a C+ (3.4*) rating from me with a strong suggestion you borrow the book and if you MUST buy it, get the print.  It's cheaper than the ebook.  (go figure)  This is NOT a series that you should go out of your way to read.
**********************************************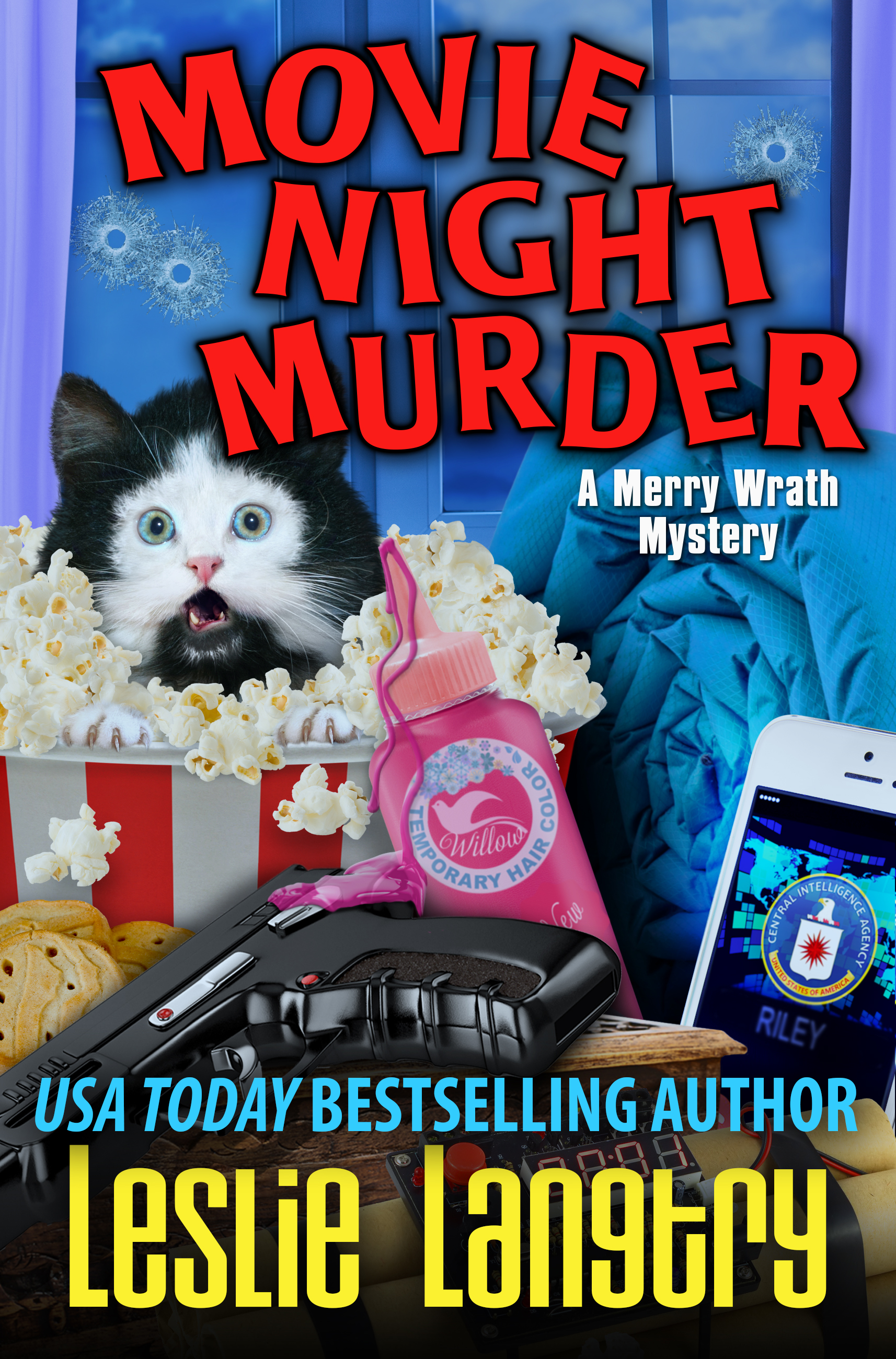 Well, once again, Leslie Langtry is hitting on most cylinders – BUT – this writer needs a damn good continuity editor.  Movie Night Murder picks up a few months after Riley is declared a 'rogue agent' for murdering several Yakuza to protect Merry in the choppy and messy Marshmallow S'more Murder  – where he declares his love for Merry and leaves her confused and torn between Rex and Riley.  Three months later at the baptism of Finn, Merry and Riley's goddaughter to best friend and co-scout troop leader Kelly's daughter.  And has to get to know the 'mommies' of the girls in the troop thanks to whole Evelyn Trout fiasco in DC.
But it's movie night with a twist – just as the girls and mommies settle in, Merry opens the door to a banging sound a woman falls dead on the floor.  Not just any woman, Evelyn Trout.  The mommies are horrified, the girls are thrilled and sit discussing poisons that can cause heart attacks.  The new Medical Examiner, a beautiful Asian woman called Dr Body, makes her debut – and arouses Merry insecurity issues with Rex.
Evelyn Trout was no girl scout mom, but a rogue CIA black ops assassin working for whoever paid best.  What she was doing with the troop is anyone's guess.  But her death brings Riley back to Merry's door because the CIA wants them to steal her body.  But someone beats them to it.
The positives – it's amusing even though the author keeps making key plot errors from prior books making continuity beyond annoying.  It has a better ending for who is the bad guy.
The Negatives – it's like a retread with tweaks.  Kelly is getting annoying, throwing a baby in the mix is weird, and suddenly Philby has 3 kittens who look different from the first two kittens – and one must assume neutering a cat is unheard of in Merry-world.
Movie Night Murder is between a C and C+ (3.3*) Langtry needs to pay more attention to her own plots because there were a LOT of discrepancies from where we left off on the last book.
That's all for now gang and you might not get review next 2 months as I need my eyes worked on and doing computer works is tough right now.  But I'll be back as soon as I can.